Barry Road Pre-School is a community run Kindergarten that has been educating and caring for children in Thomastown since 1987.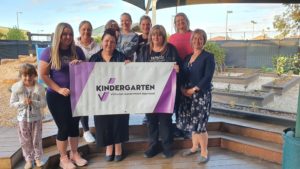 We're displaying the Kinder Tick to show we're an approved provider of a Victorian Government funded and approved kindergarten program. That means our service delivers a play-based learning program, led by a qualified early childhood teacher.
The Kinder Tick shows we meet criteria in the funding guidelines set out by the Victorian Government — which means you can have confidence your child's learning and development will be supported by qualified early childhood teachers and educators through a responsive, evidence-based learning program.
Barry Road PreSchool is proud to display the Kinder Tick.
"Play is the highest form of research" – Albert Einstein

Barry Road PreSchool would like to show our respect and acknowledge the Traditional Custodians of the Land, of Elders past, present and emerging, on which we work, learn and play.